Duck Hunts - Goose Hunts - Turkey Hunts - Deer Hunts - Maryland Waterfowl Hunting
Waterfowl Hunting with Barneck Outfitters on Maryland's Eastern Shore
Here at Barneck Outtitters we have been specializing in guiding Diving Duck hunters on the bay since 1986. We hunt the mouth of the Choptank river as well as Little Choptank and the Miles River.

Guided Maryland Eastern Shore Diver Duck Hunting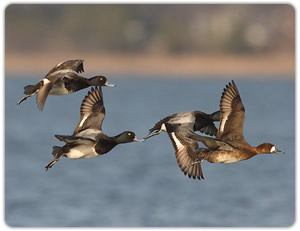 We have miles of pristine waterfront that is prime diver habitat. We are one of the few, if not the only outfitter to utilize private locations for our diver duck hunts. We do not depend on the less productive public gunning rig zones. Instead we are able to put your group right in the most productive areas and right in the flyway of the more popular divers.

Our ducks arrive In good numbers the last two weeks of October and we start hunting our hunts the 1st of November to ensure good shooting right from the start. Enjoy fast shooting as our Bluebill, Bufflehead, Ruddy's and Seaducks are the first to arrive. Canvasback and Goldeneye in December and early Januaray with Mergansers adding an additional trophy as well. We use large private permanant shore and offshore blinds, large 24' floating blinds with 16' boxes. As well as hunting boats ranging from 20 to 28 feet. lt Is not uncommon to for your group to fire up to a case of gunshells as these birds do there daily ritual of trading from the river out into there feeding grounds to the many mussel, clam, and oyster beds that are abound in the bay. Our hunts are completely customized to your desires. We have hunts for those just new to the sport, to those who are die hard expierenced waterfowl hunters. Whether it be your are out for a day of fun or are after that elusive trophy bird. We can put you with one of our highly experienced guides or your group can hunt in the blinds alone while we retrieve your downed birds from one of our tenderboots. Shots are decoying with most ranging from 25-30 yards yet we recommend BB's to cut down on cripples. Also enjoy our traditional hunting style as we use longlines and mix up hand carved Chesapeake Bay wooden decoys from a wide variety of carvers. Some hunters elect to purchase some of the decoys they have shot over. Hope to see you in the blind for your next Chesapeake Bay diver hunt. Diver hunting is a fun and existing hunt with plenty of action.

Layout Boat Hunting for Divers
Barneck Outfitters offers layout boat hunting from two man Lake Erie style Layout boats. Hunting from layouts offers exciting in your face action.
Chesapeake Bay Seaduck Hunts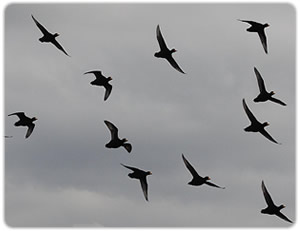 Barneck Outfitters offers some of the best seaduck hunting opportunltiles the Atlantlc Flyway has to offer. We are stlll experiencing the vast amout of seaducks that the bay has produced for years. Take advantage of huntlng Oldsquaw, Surf Scoter, Black Scoter, and Whitewing Scoters. Bluebill and bufflehead are commonly taken on these hunts as well. Enjoy hunting Sharps Island, James Island, and Poplar Island flats as well as the Choptank River, which all contain the plentiful clam and mussel beds which are steadily cultivated by the local waterman keeping the ducks in a feeding frenzy. Through late October and November is when the larger flocks are easily decoyed in. Giving our hunters fast action packed shootlng.
Barneck outfitters offers several ways to hunt our seaducks from recently constructed 28' bay and duck boats to our 24' floatlng blinds. For the more adventurous we offer layout boat hunts from the stable two man Bankes layout boats for in your face action. Our hunts are very challenging to even the most expenenced of hunter and are highly recommended.
Diver Duck & Sea Duck Rates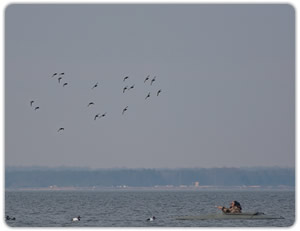 Call us at 443-786-6073 or Email for Pricing

Layout Boat Hunting Rates

Call us at 443-786-6073 or Email for Pricing

Barneck outfitters is located on Maryland's famous Eastern Shore. We are within driving distance of all east coast Metro areas. We are a short ninety minute drive from Baltimore and Washington and only three hours from Harrisburg and Philadelphia PA. Be sure to contact us for your next watertowl hunt of a lifetime.

Cast and Blast Rates
Call us at 443-786-6073 or
Email
for Pricing
Contact us for group discounts.
Dorchester County Puddle Duck Hunts
We offer puddle duck hunting in the marsh of lower Dorchester County for teal wigeon gadwall pintail and blackducks.
Call us at 443-786-6073 or
Email
for Pricing
Famous Eastern Shore Goose and Duck Combo Hunts
Our Canada goose and duck hunting takes place on private farms throughout Talbot County MD. We hunt between the towns of Easton, Maryland (known for the famous Waterfowl Festival) through St Michaels and down to Tilghman Island. We hunt water and field blinds to give you the best shot at these hearty birds. We use floaters for both ducks and geese and puddle ducks and divers are readily taken with the geese as well.
For more information on our combo hunts please email us at
chris@duckhuntingmd.com
To Book a Waterfowl, Deer, or Turkey Hunt with Barneck Outfitters... Call us at 443-786-6073