Duck Hunts - Goose Hunts - Turkey Hunts - Deer Hunts - Maryland Waterfowl Hunting
Welcome to Barneck Outfitters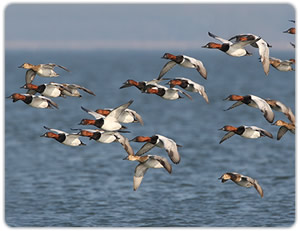 Welcome to the home of Barneck Outfitters. We are Located in the picturesque fishing village known as Tilghman Island Maryland. Barneck Outfitters started its guided hunting operations on the Eastern Shore in 1986 catering to Diver Duck Hunters and eventually including Seaducks, Canada Goose and Puddle Ducks. We recently expanded our hunting locations to include some of the finest Whitetail Deer hunting and Spring Turkey hunting the Eastern Shore of Maryland has to offer. Barneck Outfitters top priority is to get our hunters the best possible shooting at the species they most desire to include Canvasback, Bluebill, Old Squaw and all 3 Scoters. With our mid bay location, we can provide some of the best wingshooting at the largest variety of birds the Atlantic flyway has to offer. We also boast to be one of the least commercialized outfitters available. We give our experienced hunters the leeway to hunt the way they prefer, as well as fully guide hunts to those just taking up the sport. Whether it be a day of seaducking on the bay, river diver duck hunting, Canada Goose hunting, Chesapeake Bay layout hunting, or chasing that trophy Tom Turkery or Whitetail Deer of a lifetime, let our proffessional and courteous guides provide you with the hunt of a lifetime.
Striped Bass Fishing on the
Chesapeake Bay
We offer waterfowl hunts for:
Surf Scoter

Common Scoter

White Wing Scoter

Old Squaw / Long Tailed Duck

Canvasback

Lesser & Greater Scaup / Bluebill

Bufflehead

Mallards

Black Ducks

Canada Geese
Diver Duck & Sea Duck Hunting
Barneck Outfitters specializes in guided Diving Duck and Sea Duck hunting on the Chesapeake Bay since 1986. We hunt the mouth of the Choptank river as well as Little Choptank and the Miles River.

Click here for Waterfowl Hunting Rates
Whitetail & Sika Deer Hunting
Barneck Outfitters offers deer hunts on Maryland's Eastern Shore for both Whitetail deer and Wild Free Range Sika deer. We offer hunts by the day or full season.
Click here for Deer Hunting Rates

Spring Turkey Hunting
Barneck Outfitters offers spring Gobbler Hunts by the day or 3 day hunts. We have farms throughout Talbot and Dorchester counties that are prime turkey habitat.
Click here for Turkey Hunting Rates

Chesapeake Bay Ray Hunting
Chesapeake Bay Cownose Ray Hunting Trips. Bowfishing, Harpooning and Fishing trips out of Tilghman Island Maryland.The pursuit of the Cownose Ray in the mid Chesapeake Bay area is one of the most exiting and rewarding trips available.
Click here for Ray Hunting Information

Striped Bass Fishing
Maryland's Chesapeake Bay provides millions of Saltwater Anglers with the best Striped Bass (Rockfish) fishing in the world. Book a trip today with Captain Chris Sherman and his crew for a fun filled "Day on the Chesapeake Bay".
Click here for Striped Bass Fishing Information

Hunt Canada with Barneck Outfitters
Hunt Manitoba's Famous Interlake Region. Come to one of Canada's biggest waterfowl staging areas, the Interlake Region between Lake Manitoba and Lake Winnipeg is home to thousands of ducks and geese and are more abundant than anywhere in North America.
Click here for Canada Hunting Information
To Book a Waterfowl, Deer, or Turkey Hunt with Barneck Outfitters... Call us at 443-786-6073